Oren's Forge, French Print Edition
Oren's Forge made it's official French release on March 29th, under the title La Forge d'Oren (Première partie : La Proie)!
The book is hard cover, full color, 64 pages plus has a few additional pages of concept art! Printing looks lovely and I couldn't be more excited!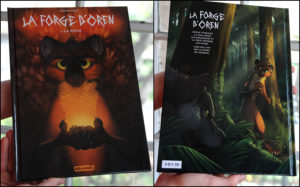 You can find it right now in book shops in France (and Belgium, I believe), as well as online from Kramiek's website, right here.
It's also on Amazon.fr and various other sites!
(And… if you pick up a copy somewhere or have the chance to leave a positive review online, I really appreciate it!)
That's great, but what about in English?
I don't have any new information about an English print edition, yet. Trust me, though, it's something I'm working toward! It'll happen!
When will you start posting more pages?
I'll start posting Oren's Forge again toward the end of June/early July!
Thank you as always! More Oren's Forge stuff coming your way soon!